Bruce Caldwell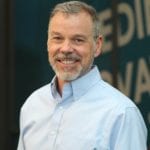 Company: 3BarBiologics
Job title: CEO
Bio:
Bruce Caldwell is the founder and CEO of 3Bar Biologics, a seed stage spinout from The Ohio State University dedicated to improving yield and productivity in agriculture. 
Prior to starting 3Bar, Mr. Caldwell served as Senior Vice President of R&D for ScottsMiracle-Gro, where he led a global organization in the creation and delivery of a broad portfolio of innovations in the consumer lawn and garden category. Prior to joining ScottsMiracle-Gro, Mr. Caldwell worked for The Procter & Gamble Company where he held roles of increasing responsibility in Food, Beverage, and Beauty Care R&D. 
Mr. Caldwell holds a bachelor's degree in chemical engineering from the Georgia Institute of Technology and an MBA from the University of Cincinnati. He has served as an executive mentor at Ohio State's Center for Entrepreneurship, the Vice President's Advisory Council for the College of Food, Agriculture, and Environmental Sciences, and the board of trustees for COSI Columbus. He also currently serves as a 4RN auditor for the Nutrient Stewardship Council.  
Seminars:
Microbiome Leaders Panel Discussion 8:30 am
 What is the status of this field, firstly from a scientific perspective and secondly, from a product development perspective? Plotting the road to success: what is our end goal, what are the applications of the industry's R&D efforts and what hurdles must be overcome to get there? What are the most promising hot pockets of…Read more
day: Day One